debugging test
Tuesday, 02 August 2016 21:17
admin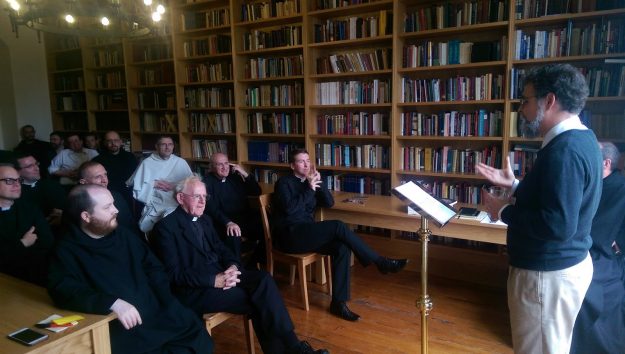 Yesterday afternoon, Dr Peter Kwasniewski gave a conference at Silverstream Priory to the monks and to our Oblates and clergy friends. The full text of Dr Kwasniewski's conference is available at Rorate; we have posted the audio here.
A few excerpts:
We are steeped in a world of pragmatism, utilitarianism, and activism, where we place such a high premium on doing and making, where we ask "what good is it" and "what's in it for me," where we look for results, the bottom line, the cash value, the pay-off. …
In modern times we have lost the sense of sacred liturgy as an activity worth doing for its own sake, as an action whose justification lies in itself rather than in its usefulness as a tool or an instrument. Correctly understood, the liturgy is something we do for God, because He is glorious, deserving of all our love, our adoration, our devotion, our self-forgetful attention. …
When, and to the extent that, we act as if we were ordering God to ourselves instead [of ordering ourselves to God], He will allow us to suffer the just penalties of restlessness, boredom, dryness, disbelief, and even despair. Nor should we underestimate the perceptiveness of the faithful in the pews, many of whom can readily sense the difference between a liturgy that is done for God's sake, with His honor and glory as the motivating force, and a liturgy that is designed and conducted for the people, so as to involve, stimulate, affirm, entertain, or otherwise engage them.
testing a font
Monday, 07 March 2016 04:15
admin
This is a post to test a font.
regular font
bold font
italic font
bold italic font
Not bad
Saturday, 27 July 2013 22:17
admin
So the big transition is done, and all the current blogs for stblogs.org are running on WordPress now:
Catholic Light
Communio
Pansy and Peony
Vultus Christi
(links are in the right column)
Thanks to the authors for their patience this week during the work, and thanks for their ideas to change their graphic designs as well.
I should also say: thanks to the Church Music Association of America; if they hadn't asked me to fulfill the role of webmaster a couple of years ago, I wouldn't have had such an opportunity to catch up with the state of blog software, including WordPress.
Hello again!
Wednesday, 17 July 2013 06:52
admin
I'm rebuilding stblogs.org with WordPress, as a first step toward converting the blogs to that platform.